Phy­sio­the­ra­pist for infants

&

child­ren
Child­ren have a high moti­va­tion to achieve the grea­test pos­si­ble moto­ric inde­pen­dence. This spe­ci­fic deve­lop­ment of a child can be an enjoy­a­ble pro­cess as it is indi­vi­dual and varied. I set great store in reco­gni­zing and sup­por­ting the indi­vi­dual poten­tial of your child.
In this con­nec­tion, my years of expe­ri­ence in the areas of infants and todd­lers, as well as lear­ned and reco­gni­zed tre­at­ment approa­ches and methods are hel­pful. I offer you expert advice and ans­wers to many of your ques­ti­ons as well as the­rapy.
I look for­ward to get­ting to know you and your child in the cli­nic.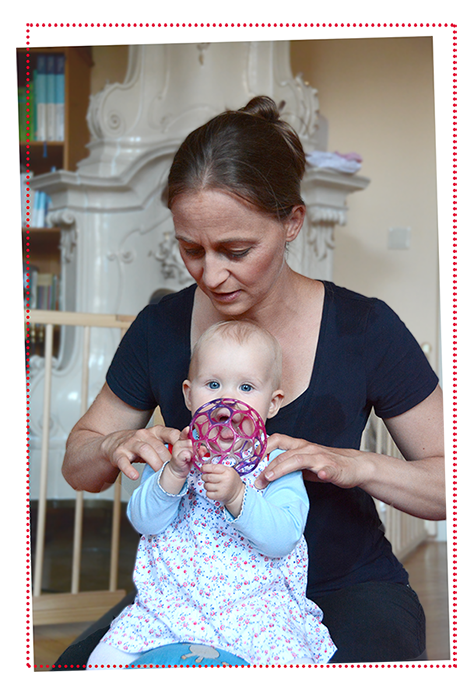 The­ra­peu­ti­cal Focal Point
ADVICE
ON
DEVELOPMENT
SUPPORT
Envi­ron­ment design, toy ideas
sto­rage opti­ons
car­ry­ing opti­ons
In case of uncer­tainty of the par­ents in the hand­ling of the infant
Pro­per use of baby aids
DEVELOPMENT
DELAY
Mis­sing tran­si­ti­ons
Late start of the walk
Later start of the seat
No loco­mo­tion
Lack of head con­trol
POST-TREATMENT
OF
EARLY
SPRING
BORN
Increa­sed sto­macha­che, diges­tive pro­blems
Favo­rite page, favo­rite situa­tion
Loca­tion insta­bi­lity
unrest
Abdo­mi­nal mus­cle weak­ness
LOCATION
ASYMMETRIES
Favo­rite sight
Late­ral tilt of the spine
Asym­metric head pos­ture
Asym­metric head shape or flat­te­ned back of the head
Uni­la­te­ral defor­mity (hip, hack foot, clim­bing foot …)
NEUROLOGICAL
CONFIDENCE
Asphy­xie

ICP

Increa­sed mus­cle tone
Suspec­ted syn­drome / meta­bo­lic dis­or­der
Dys­ki­ne­sia / coor­di­na­tion abnor­ma­li­ties
Mal­po­si­ti­ons (club­foot …)
Child­ren refresh life and please the heart.